2023 CBMA GLOBAL CRUSHIE WINNER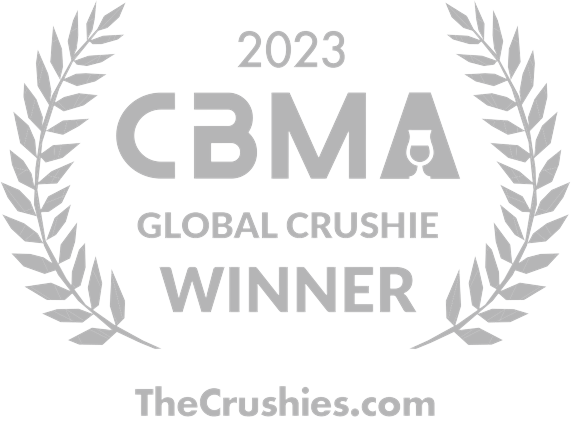 HELLOWHALE IS THE GLOBAL WINNER OF THE 2023 CRAFT BEER MARKETING AWARDS (CBMA) IN THE CATEGORY "BEST BOTTLE DESIGN".

THE CRAFT BEER MARKETING AWARDS (CBMA) WERE DEVELOPED TO RECOGNIZE AND AWARD THE VERY BEST MARKETING IN THE BREWING INDUSTRY ACROSS THE WORLD. BREWERIES, THEIR AGENCIES, ARTISTS, AND MARKETING PARTNERS ARE INVITED TO ENTER THEIR TOP WORK.

ENTRIES ARE DIVIDED UP INTO FIVE REGIONS (THE AMERICAS, UK, EUROPE, ASIA & PACIFIC AFRICA & BEYOND) AND GLOBAL. ALL CATEGORIES ARE JUDGED BY AN INFLUENTIAL AND RESPECTED PANEL OF BEER, MARKETING, AND DESIGN EXPERTS. THE CBMA JUDGING PROCESS IS A ROBUST, CREDIBLE, AND TRANSPARENT DIGITAL SCORING SYSTEM.

HELLOWHALE IS THE GLOBAL WINNER IN THE CATEGORY BEST BOTTLE DESIGN FOR 207-621ML BOTTLES. MORE THAN 600 JUDGES AROUND THE WORLD VOTED FOR HELLOWHALE.

THE CBMA 2023 TOOK PLACE FROM MAY 7TH TO 11TH IN NASHVILLE, TENNESSEE, USA.

THE STORY OF THE DESIGN

DESIGNERS
THE LABELS WERE CREATED ON 99DESIGNS.COM FIRST BY A DESIGNER NAMED LUCADIA. THEY WERE THEN REFRESHED (MAINLY LOGO AND PRODUCT RELATED INFORMATION) BY ANOTHER DESIGNER, TOMAS MILIAUSKAS ON THE SAME PLATFORM.

STYLE
MINIMALISM

PURPOSE
THE DESIGN SHOWCASES THE BRAND'S MISSION (DREAM BIG) AND DEPICTS AN IMAGINARY WORLD WHERE A WHALE EMERGES RIGHT IN FRONT OF A WOMAN IN A TINY BOAT ON A LAKE IN THE SWISS ALPS.

SCENERY
THE SCENERY DEPICTS SWITZERLAND'S ICONIC AND WORLD FAMOUS MOUNTAIN, THE MATTERHORN (4.478 M). THE BREWERY IS LOCATED IN SALGESCH, ONLY A FEW KILOMETERS FROM THE MATTERHORN. SWITZERLAND IS A LANDLOCKED COUNTRY WITH NO ACCESS TO THE OCEAN. AS A CONTRAST TO THE MOUNTAIN WORLD OF THE ALPS, A WHALE HAS BEEN ADDED TO SYMBOLIZE THE FREE, WILD, OPEN AND LIMITLESS OCEAN. THE FINAL RESULTS SHOWS AN IMAGINARY LANDSCAPE BEING SHAPED BY THESE TWO OPPOSING WORLDS.

CHARACTERS
TWO OPPOSING CHARACTERS ARE DEPICTED ON THE LABEL:
- THE WOMAN: WHO STANDS FOR BEAUTY AND ELEGANCE, BUT ALSO FOR EPHEMERALITY AND FRAGILITY. HER FACE IS ONLY VISIBLE FROM THE SIDE, WHICH LEAVES ROOM FOR INTERPRETATION: WHO IS SHE? HOW DOES SHE REACT IN THIS SITUATION: IS SHE AMAZED, FULL OF ADMIRATION, OR SCARED?
- THE WHALE: WHO STANDS FOR STRENGTH, ENDURANCE, POSITIVITY, BUT ALSO FOR MYSTERY. THE EYE OF THE WHALE IS VISIBLE AND IT ESTABLISHES EYE CONTACT AND THUS AN EMOTIONAL LINK WITH THE WOMAN. HERE AS WELL, WE DON'T KNOW THE WHALE'S REACTION AND CAN ONLY GUESS WHAT IT FEELS IN THIS VERY MOMENT.

WHAT ELSE IS SPECIAL ABOUT THE DESIGN?
WE PAID SPECIAL ATTENTION TO THE DETAILS. THE AIM IS TO IMMERSE OUR CUSTOMERS IN THIS IMAGINARY WORLD, INSPIRE AND SURPRISE THEM. DID YOU NOTICE THAT THE WOMAN'S HAIR COLOR IS DIFFERENT FOR EACH VARIETY? IT RANGES FROM BLOND (FOR THE WITBIER) TO BLACK (FOR THE AMERICAN STOUT).